The Golden Star Award is an esteemed event that recognizes excellence and talent in the entertainment industry. Among the many outstanding individuals who graced the occasion, Engr. Dr. Funmilayo Waheed-Adekojo stood out as a true luminary, receiving not one but two prestigious awards.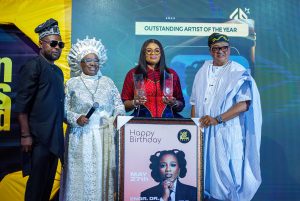 Her remarkable achievements as both an artist and a humanitarian entertainment personality captured the hearts of the audience, making her a worthy recipient of these distinguished accolades.
Engr. Dr. Funmilayo Waheed-Adekojo's talent as an artist has never been in doubt, and the Golden Star Award committee recognized this by presenting her with the highly coveted Best Outstanding Artist of the Year award. 
Her artistic abilities have captivated audiences across the globe, with her unique style and soulful performances leaving an indelible mark on the music industry. From her melodic voice to her captivating stage presence, Engr. Dr. Funmilayo continues to redefine what it means to be an exceptional artist.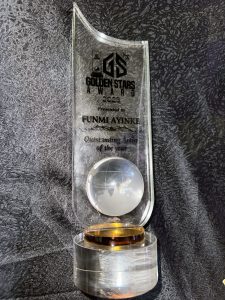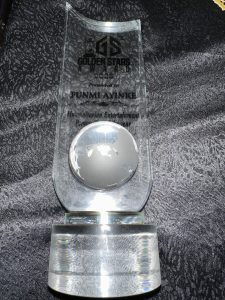 This award serves as a testament to her dedication, talent, and unwavering commitment to her craft.
Beyond her artistic prowess, Engr. Dr. Funmilayo Waheed-Adekojo has also dedicated her time and resources to making a positive impact on society. Her efforts as a humanitarian entertainment personality have not gone unnoticed, leading to her receiving the prestigious award in this category at the Golden Star Award ceremony.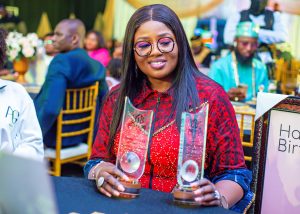 Dr. Funmilayo's philanthropic endeavors are a true reflection of her compassionate nature and desire to uplift the less privileged. She has been actively involved in numerous charitable initiatives, supporting causes such as education, healthcare, and women's empowerment. Her contributions have made a significant difference in the lives of many, and her advocacy for positive social change has inspired others to follow suit. With grace and humility, she expressed her gratitude to the organizers, her team, and her fans for their unwavering support throughout her career.
Engr. Dr. Funmilayo Waheed-Adekojo's remarkable achievements at the Golden Star Award 2023 as the Best Outstanding Artist of the Year and Humanitarian Entertainment Personality of the Year are a testament to her immense talent and unwavering dedication to making a difference in society. Her ability to touch hearts through her music, combined with her philanthropic efforts, sets her apart as a true inspiration and role model. As she continues on her journey, we can only anticipate the greater heights she will reach and the positive impact she will continue to make in the world.