The Chief Executive Officer Of FunmiAyinke Nigeria Limited (FNL), Engr. Dr. (Amb) Funmilayo Waheed-Adekojo has been recognized as the 'Emerging CEO Of The Year 2023' at the 13th edition of the recently concluded African Achievers Award that was held in the United Kingdom, London.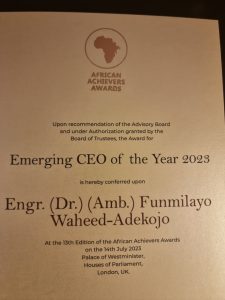 Funmi Ayinke emerged winner of the prestigious and most sought-after award on account of her commitment, excellence, capacity, sagacity, resilience, and efforts she put into her career as an Engineer, musician and reality speaker.
The award of the 'Emerging CEO Of The Year' has added to the fleets of recognition Funmi Ayinke has received across the globe.
Some of her past awards include Global Excellence Leadership And Corporate Enterprise (London 2023), World Most Relentless Influential Woman (2022), Distinguished Cooperate Award By The Nigerian Society Of Engineers (2022), Great Humanitarian Achiever Award By Mr. & Miss Nigeria International (2022), Nigeria News Award Of Excellence As Woman Of The Year (2021), Classic Africa Merit Awards Africa Best Rated Engineer Of The Year (2021), First Female Patron, Nigerian Youth Alternative Council ( 2021), to mention a few.
In her reaction, Funmi Ayinke appreciated the organizers of African Achievers Award for considering her for the lofty recognition. While speaking of her background as a Teacher's child, she dedicated the award to everyone with a similar background.
''My appreciation to God Almighty for always proving Himself Faithful in my life. Also, to the House of Parliament, Palace of westMinster London, United Kingdom, I am grateful.''
''To the entire management of the African Achievers Award, Omo Iya Teacher is grateful. To the entire staff of FunmiAyinke Nigeria Limited, thank you.''
''The Award of the CEO of the Year 2023 is dedicated to every Omo Iya Teacher out there making their parents proud.''