Ondo Guber aspirant, FunmiAyinke congratulates Tinubu on emergence as ECOWAS chairman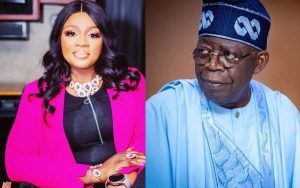 The Chief Executive Officer of Funmiayinke Nigeria Limited who is also a governorship aspirant in Ondo state under the All Progressives Congress, APC, Engr. Dr. Funmilayo Waheed-Adekojo FunmiAyinke, has congratulated President Bola Tinubu on his election as Chairman of the Authority of Heads of State and Government of the Economic Community of West African States.
FunmiAyinke, in a statement dated 10 July 2023 and signed by herself, described Tinubu's emergence which took place at the 63rd Ordinary Session on Sunday in Bissau, Guinea-Bissau, as a significant affirmation of the Presidents leadership prowess in the African continent.
Felicitating with the President and Commander-in-Chief of the Armed Forces, Federal Republic of Nigeria on his endorsement, she noted that his overwhelming endorsement to lead the organisation is a welcome development, considering his pedigree and accomplishments in public service, which will undoubtedly help the organisation achieve its noble goals.
Elated by the President's emergence, she expressed confidence in his capacity to come up with reforms that will promote cooperation and development in all spheres of economic activity among member countries.
"President Tinubu's emergence came at a time the region needs policies and initiatives to tackle daunting security challenges facing it, saying that a visionary leader like him will develop a tactical leadership that will resolve all conflicts across the West African sub-region.
Describing President Tinubu as a round peg in a round hole, she affirmed, that he is a worthy nation-builder and a peace maker who would unite the region to achieve common goals.
"Having shown abilities and capacity in his actions in the first month of his administration, we have no doubt, that domestic orientation was best suited for sub-regional integration and cooperation, especially in the area of peace and stability.
"As a true democrat that he has always demonstrated, President Tinubu would be true to his word of positioning ECOWAS to maintain zero tolerance for military coups in West Africa.
According to her; as the President has exhibited confidence to lead ECOWAS, I enjoin Heads of States and Governments in the region to join hands with him to wage war against undemocratic regimes and to also sustain the core elements of regional integration.
FunmiAyinke, however, called on Nigerians to pray for President Tinubu for more strength and wisdom to render effective leadership services to the people he has been chosen to lead.